Courses And Events Details
Passive House Social Bike Tour
Bring your bike and get ready to visit some of Vancouver's Passive House projects! The tour will begin at City Hall, and travel primarily down Ontario Street. Your ticket includes information sharing on each Passive House visited.
---
Event Details:
Date: Saturday, July 11th, 2020
Start Time: 9am PST
Start Point: Vancouver City Hall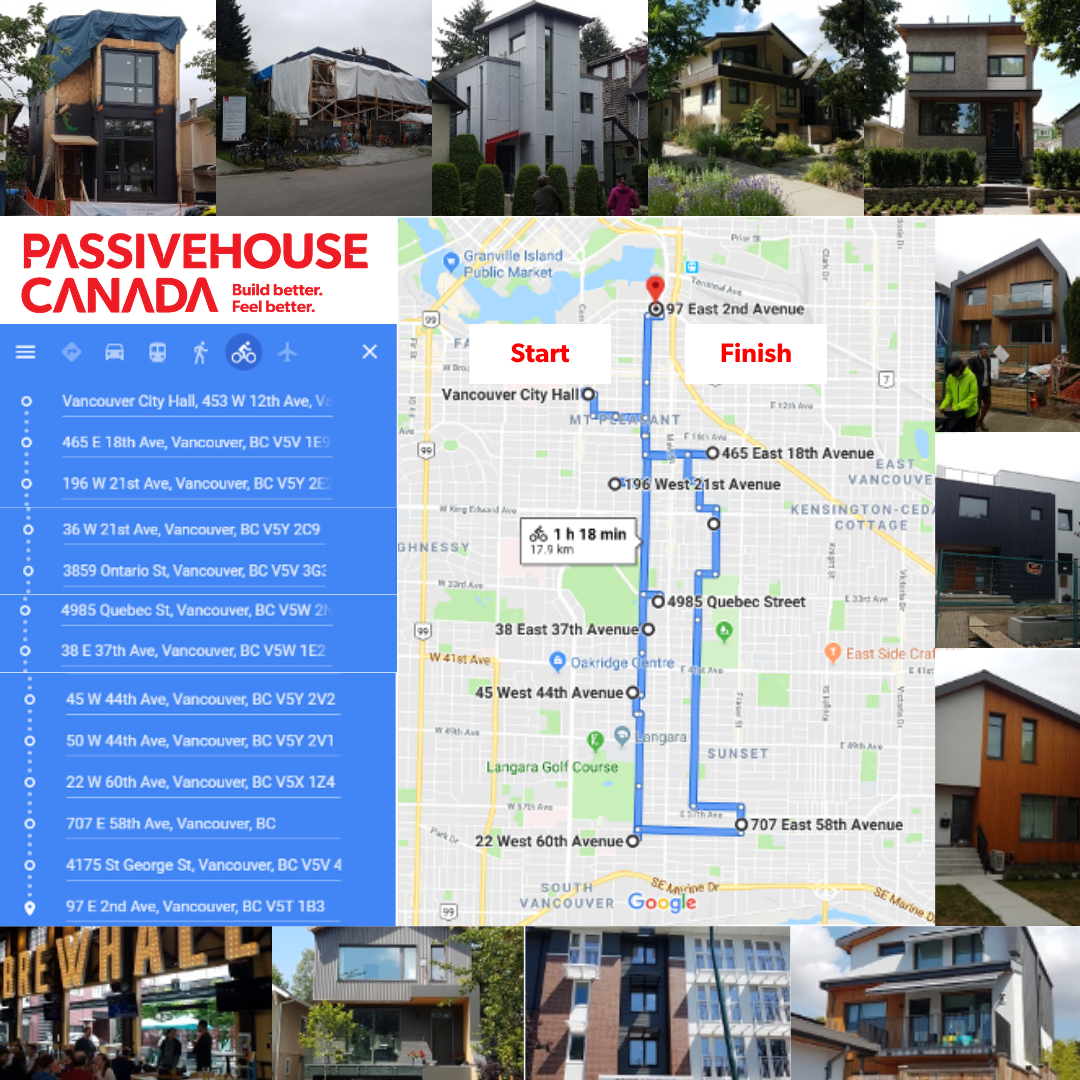 This event is brought to you by Passive House Canada, in partnership with ZEBx, and supported by SIGA Cover.



Note for viewing all projects: Please meet on the sidewalk for discussion to avoid blocking traffic. It is unlikely we will be able to view the interior of completed spaces to respect residents' privacy on their property. Projects under construction may not be suitable for attendees to enter - if the site is available, guests can enter at their own risk.
Cyclists should pack enough water and snacks for the duration of the trip. Helmets must be worn when we are traveling from location to location. Bring your own bike lock. Organizers are not responsible for the cyclists' safety, please ride responsibly.
As per the Worksafe BC COVID-19 safety guidelines, this event will be limited to 50 people and all necessary safety measures will be in place to include the 6 metre social distancing protocol. All registered participants will be required to complete a waiver that will be sent within 24 hours of the event via Survey Monkey. We thank you for your cooperation in order to make this event possible. Face coverings are encouraged, but not mandatory. We will space out evenly and announce the next location and route at each stop.
This event is brought to you by Passive House Canada, in partnership with ZEBx, and all Passive House Socials are primarily sponsored by SIGA Cover.
For questions, comments, or to inquire about becoming a presenter at upcoming events, please email the organizers at: chris.hill@passivehousecanada.com.
---
Please note: when you enter a Passive House Canada (PHC) event or program, you enter an area where photography, audio, and video recording may occur. By entering the event premises, you consent to you and your likeness being photographed, audio recorded, video recorded and its/their release, publication, exhibition, or reproduction to be used for news, web casts, promotional purposes, telecasts, advertising, inclusion on websites, social media, or any other purpose by Passive House Canada and its affiliates and representatives.
If you have any questions regarding this notice, please speak with a Passive House Canada staff member. We are happy to assist you.