Registration for this event has passed
Courses And Events Details
Passive House Canada Conference 2018: Partnering for Transformation
Thank you to all who have registered, conference tickets are now sold out.
We look forward to welcoming you to the Passive House Canada Conference in Vancouver, BC.
Tickets for socials and BCIT event are available now! Please purchase tickets in advance: Click here to purchase tickets as a 'Social Attendance Only' Delegate.
If you have already registered for conference, and wish to purchase tickets for tours or BCIT event, please refer to your registration confirmation email for registration details or contact us for further instruction.
For all conference details please visit the conference website at www.phcc2018.com
We are already planning the 2019 conference! We welcome member participation in the planning process, if you would like to get involved and participate in one of the planning committees, please email us.
Thank you to our Presenting Sponsors: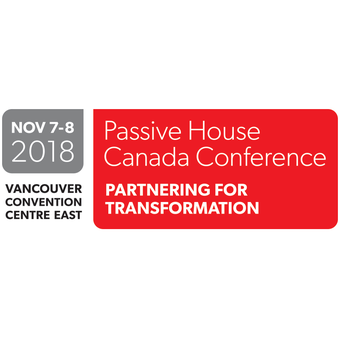 Vancouver Convention Centre East Building, 1055 Canada Pl, Vancouver, BC V6C, Canada